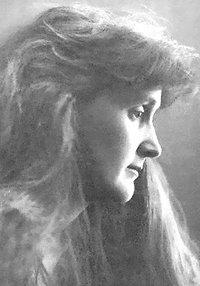 I'm sorry to be so last minute about what looks like an interesting lecture about mediums Leonora Piper and Eusapia Palladino, presented by the Rhine Research Center. From the website about Leonora Piper:
"We shall look at the life of this remarkable woman and the evidence which convinced so many esteemed figures of her authenticity and ability to communicate with the dead. Some stunning transcripts will be presented as well as pictures of Mrs. Piper in a trance and what automatic writing looks like."
And about Eusapia Palladino: "Palldino's early and later life will be discussed as well as some of the controversies which swirled around her. Evidence for telekinesis and materialization will be presented as well as the historical significance of these fascinating individuals."
It's this Friday, July 26th, 7:00 PM through 9:00 PM, at the Stedman Auditorium on the Duke Center for Living Campus 3475 Erwin Road Durham, NC.
The great thing is, especially since I posted about this so late, is you can sign up to watch it live from your computer.
More info here.