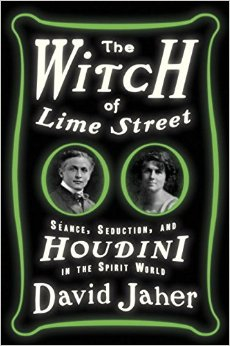 The Witch of Lime Street by David Jaher has a pub date! I know a lot of people have been looking forward to this book for a while. It's scheduled for October 6, 2015.
"History comes alive in this textured account of the rivalry between Harry Houdini and the so-called Witch of Lime Street, whose iconic lives intersected at a time when science was on the verge of embracing the paranormal.
"The 1920s are famous as the golden age of jazz and glamour, but it was also an era of fevered yearning for communion with an unseen spirit world, after the loss of tens of millions in the First World War and the Spanish-flu epidemic. A desperate search for reunion with dead loved ones precipitated a tidal wave of self-proclaimed psychics—and, as reputable media sought stories on occult phenomena, mediums became celebrities.
"Against this backdrop, in 1924, the pretty wife of a distinguished Boston surgeon became the idolized focus of the raging national debate over Spiritualism, a movement centered on communication with the dead. Reporters dubbed her the blonde Witch of Lime Street, but she was known to her followers simply as Margery. A socially prominent woman of exceptional charm, her most vocal advocate was none other than Sherlock Holmes' creator Sir Arthur Conan Doyle, who believed so thoroughly in Margery's powers that he urged her to enter a controversial contest, sponsored by Scientific American and offering a large cash prize to the first medium declared authentic by its impressive five-man investigative committee. Margery was the best hope for the psychic practice to be empirically verified, and her supernatural gifts beguiled four of the judges. There was only one left to convince…the acclaimed escape artist, Harry Houdini.
"David Jaher's extraordinary debut culminates in the showdown between Houdini, the world's greatest unmasker of charlatans, and Margery, the nation's most credible spirit medium. The Witch of Lime Street, the first book to capture their electric public rivalry and the competition that brought them into each other's orbit, returns us to an oft-mythologized era to deepen our understanding of its history, all while igniting our imagination and engaging with the timeless question: Is there life after death?"
Morbid Anatomy in Brooklyn already has a talk and signing scheduled for October 16th. That would be the event to go to, I think. Morbid Anatomy is a must-see place to begin with so arrive early so you can look around at their collection.
You can pre-order The Witch of Lime Street here.