In the August 1963 edition of their Parapsychology Bulletin, the Parapsychology Laboratory of Duke University printed an article titled, The "Paroptic" Illusion. It began, "It comes in waves, recurring every 15 or 20 years, this curious, contagious notion that certain blindfolded persons are able to "see" with some sensory area besides their eyes …" Some people claimed that while blindfolded they could identify cards, read passages from the Bible, or play checkers.
Every case that they were permitted to examine and test, the article went on, were exposed as hoaxes. They were also of the opinion that were they able to test them all they'd find that every one of them was a trick. Among those named were "Professor" Shepard of Toledo, (their quote marks, not mine) Pat Marquis, (my post about Pat Marquis) and Rosa Kulenshova.
A few years earlier, in 1957, Col. Frank F. Carr of the U.S. Army Intelligence Board had written J. B. Rhine, the head of the Lab, about a case that was in all the papers at the time: William Foos and his paroptic daughter, Margaret Foos.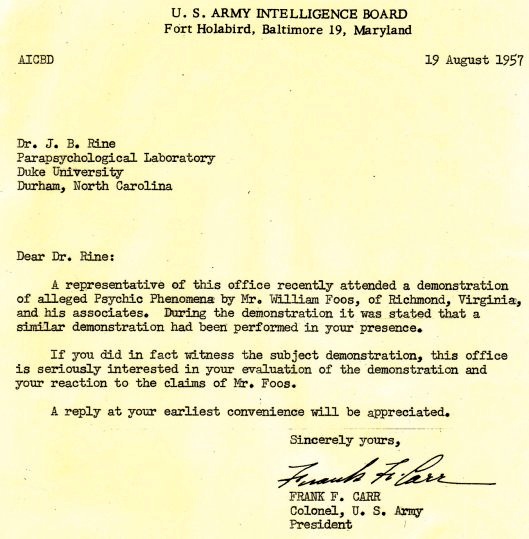 Foos was making the additional extraordinary claim that by developing their powers of extra-sensory perception he could "teach the blind to see," to the point where they could safely drive a car. J. B. Rhine responded (and I can't help noticing the efficiency of the U.S. Post Office in 1957, not a complaint about the Post Office, those were different times).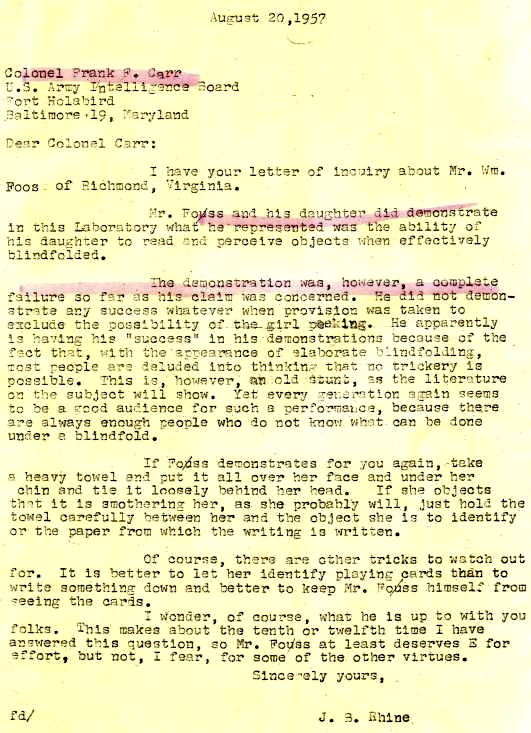 The Lab had actually conducted ESP tests with sight impaired children. From his book Frontier Science of the Mind:
"Groups of blind children have yielded results that compared with those of seeing children of the same age … while no group of any size has been found completely devoid of capacity to demonstrate ESP, at the same time no subdivision of the human species has been found to stand out in any really distinctive way as either possessing superior psi powers or superior control over them."
The FBI was also investigating Foos's claims and they seemed to be quite excited initially. "Should his claims be well-founded, there is no limit to the value which would accrue to the FBI – complete and undetectable access to mail, the diplomatic pouch; visual access to buildings – the possibilities are unlimited insofar as law enforcement and counterintelligence are concerned." However, by the end of their investigation they lost all confidence that Foos would ever be able to deliver on his claims.
If she is still alive Margaret Foos would be 72 or 73 now (her age was reported differently). She was just a kid at the time, and she was probably simply doing as her father asked. I don't believe she has anything to answer for. It would just be interesting to hear her side of the story now, all these years later.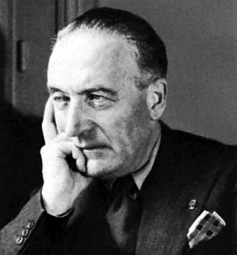 The picture on the right is of Jules Romains, aka Louis Henri Jean Farigoule. His book, Eyeless Sight, is also mentioned in the August, 1963 Parapsychology Bulletin. This one is interesting because as far as I can tell, Romains was a respected poet and writer from France.
From the Parapsychology Bulletin:
Farigoule "did not use hypnosis but induced a 'delta condition' in his subjects that may have been like it. He taught his people to see with the cheek line under the eyes. In fact, this suited his method of blindfolding better. The subjects saw objects placed low in front of them. Again, appearances favored the sincerity of all. Mr. Romains was, in fact, so confident that he haughtily declined to discuss the demonstration at the Duke Laboratory of the inadequacy of his blindfold."
Rhine suggested simple controls, like the one described in his letter to Carr above, but these were all rejected by Foos and others. In any case, this seems to have been the last wave. I'm not aware of anyone making claims like this since then, although maybe someone will come along and post about someone who has.