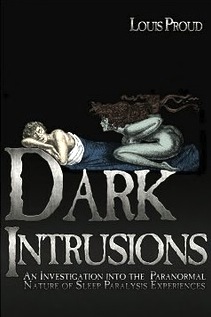 I haven't read Dark Intrusions, but from a review by Nick Redfern, which can be read in its entirety here:
"… this is a truly excellent and wide study of a phenomenon undertaken by a man who has not only been touched and changed by SP [sleep paralysis] himself, but who has had the courage to seek out the answers to this mystery, and who ultimately triumphs, rather than merely playing the role of victim to the menacing entities that invade our slumber.
As Proud states: "… the SP state puts you in direct contact with your soul."
The publisher has more about the book here, including a table of contents. This whole subject is just so disturbing and scary to me. I don't know what to make of it (which doesn't mean I'm not buying it, I try to have an open mind). The subject makes me think of Communion, Whitley Strieber's book about alien abduction. (Strieber gets a chapter in Proud's book.) I also didn't know what to make of Strieber's experiences either. But ever since reading his book, from time to time at night I look out the window and wonder how I would respond if aliens suddenly appeared. I feel lucky that I've never had to answer that question.