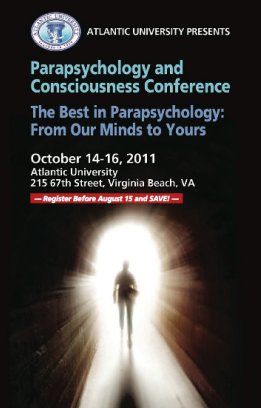 From October 14th to 16th, Atlantic University in Virginia Beach is hosting a Parapsychology and Consciousness conference titled, The Best in Parapsychology: From Our Minds to Yours.
The list of speakers is a who's who of current parapsychology, including:
Julie Beischel, PhD, Edwin C. May, PhD, Roger Nelson, PhD, Dean Radin, PhD, Doug Richards, PhD, Carlos S. Alvarado, PhD, Christine Simmonds-Moore, PhD, Nancy L. Zingrone, PhD, Henry Reed, PhD, John Palmer, PhD, James Carpenter, PhD, Robert Van de Castle, PhD, Ginette Nachman, MD, PhD, Frank Pasciuti, PhD, Loyd Auerbach, MS, David McMillin, MA, and Stephen Braude, PhD.
From the brochure: "These dedicated men and women are seeking the answers we need. Some study the relationship of psychic experiences to psychological well-being. Others focus on the intersection of psychic phenomena and modern physics. All are working to get an unbiased understanding of what we know out to the people who need it the most. Our speakers think deeply about the scientific underpinnings of psychic functioning and about what these phenomena say about interconnectedness, entanglement and the meaning of life."
To see the conference brochure with a complete list of the speakers and talks, click here.