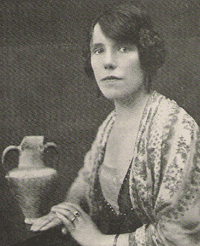 In 1945, J. B. Rhine started corresponding with the widow of Lt. Ernest D. Wenberg, an Army doctor who died on December 23, 1944, while a POW of the German government. Like so many other widows who wrote J.B., Mrs. Wenberg wanted to communicate with her dead husband. Her letters to Rhine described all her recent sittings with the psychics of New York, where she was living at the time, and also a few of her encounters outside New York.
For instance, the Rev. C. Drayton Thomas had held four proxy sittings for her with the British medium Mrs. Leonard, who doesn't really count as a forgotten medium, at least not forgotten by any students of parapsychology.
But the more interesting parts of Mrs. Wenberg's letters were the sections about mediums I'd never heard of. Mrs. Wenberg was getting advice from a Miss Gertrude Tubby, the former secretary of the late Dr. James H. Hyslop (a Columbia professor turned psychical researcher). Miss Tubby said she only knew two reliable mediums in New York. The first was Beulah Brown.
When I googled Brown I found that she was still working as a psychic until at least the late 1970's. She gets a brief mention in a Jazz Times article about the composer and musician Horace Silver. "Around that time, in the late '70s, he also consulted with the New York-based medium, Beulah Brown, who gave him the name for his label, Silveto."
This was an ad placed in the New York Times in the 50's.

The second medium recommended by Miss Tubby was Mrs. Tellier, the widow of Louis Tellier, a French golfer who hung himself in a shelter on the grounds of the Brae Burn Country Club in Newton, Massachusetts.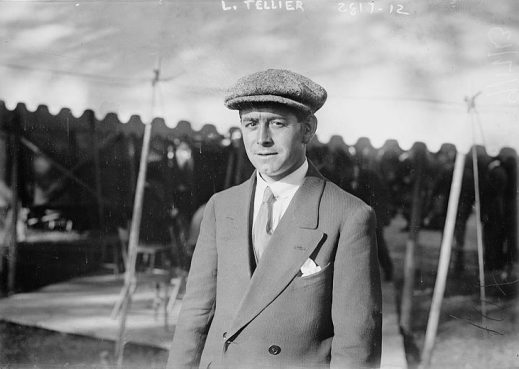 I have yet to find out a thing about Mrs. Tellier, who refused to sit with Mrs. Wenberg. She told Mrs. Wenberg she was "not taking any more sitters for a couple of weeks, due to physical and emotional fatigue."  
Update:  a relative of Mrs. Tellier (Sheila Ryan) has very kindly sent me a photograph of Mrs. Ella Tellier.  She is the one in white in the back row at the left.  Sheila doesn't know a lot about her, but she is going to try to find out more and she said she would share what she learned.  Thank you Sheila, and thank you for the photograph.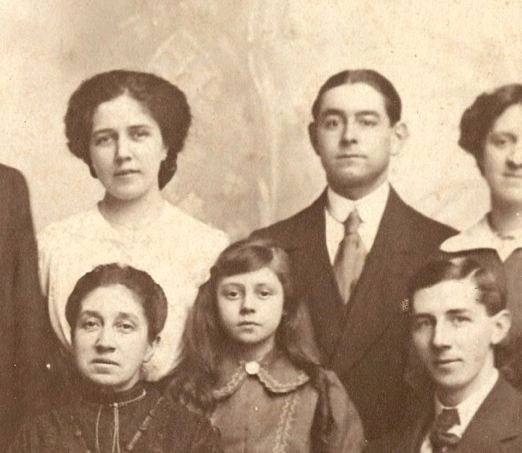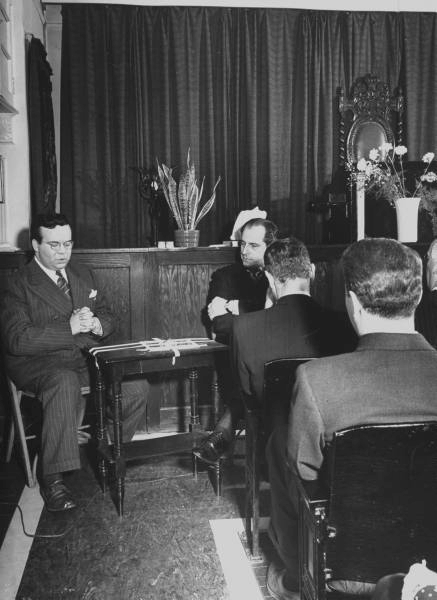 Meanwhile Mrs. Wenberg continued to visit mediums, whether they were recommended by Miss Tubby or not. She tried to see someone named Eddie MacKay, but at the time MacKay was "very skittish and would not see me unless I was vouched for personally or by letter by my informant," who was not named. The unnamed informant in turn recommended a medium named Edward L. Thorne.
However, in her letter Mrs. Wenberg describes Thorne as "the most mercenary and unmitigated fake. He holds no private sittings—why should he, since he gets a dollar for an average of 2 1/2 minutes of drivel at his public meetings and must pull down $75 dollars easily every night."
Thorne is to the far left in this picture, which is from a June 16, 1941 Life Magazine article about the skeptic Joseph Dunninger. Mrs. Wenberg said Thorne looked "something like an older edition of Orson Wells" and I can see it. That's Dunninger on the other side of the table.
Mrs. Wenberg attended two of Thorne's public sittings and her accounts are quite detailed. But when it came to Thorne, Mrs. Wenberg sided with Dunninger. "… it is sickening to see such creatures battening on the credulity and perhaps grief, of people. Not the least distressing thing is to have individuals who seem to be intelligent recommend frauds to one. It makes me doubt what one reads in even apparently well-authenticated books."