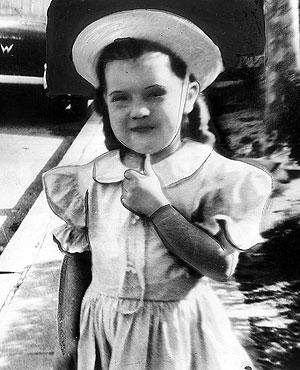 Part of the point of this book was to get away from unsolved murder, the subject of my last book.  But it just kept coming up. I had started researching a missing child in California named Bruce Kremen, whose family contacted the Parapsychology Laboratory for help.  
This led to a chapter I already mentioned about psychics, and, not surprisingly, to murder after murder. Among them was 6 year old Judith Ann Roberts, who was killed in 1954.  I talked to the original detective on the case, now in his 80's, and he remembered talking to Peter Hurkos, one of the psychics who had gotten involved with the Kremen case.
I was trying to find a picture of Judith, but all I could find was this much copied photograph that's been so re-touched she looks ghastly.  There's only a tiny section in my book about Judith, it's a truly horrific story.
From a Miami Herald article by Luisa Yanez: "An intruder breaks into a Miami home late at night and kidnaps a 6-year-old girl from her bed. Within hours, her body is dumped on a desolate road in Coconut Grove. She had been beaten, strangled and sexually molested.  The 1954 murder of Judith Ann Roberts, just a month before her seventh birthday, was Miami's first media-soaked, high-profile murder of a child.  Call it South Florida's version of today's JonBenet Ramsey murder mystery.  The abduction and slaying of a little girl visiting her grandparents rocked small-town Miami, where folks until then thought nothing of leaving their doors unlocked at night. Across the country, headlines trumpeted news of a sex maniac on the prowl in sunny Miami."
The psychic Peter Hurkos said he'd crack Judith's case within two weeks, but fifty years later Judith Ann Roberts' murder is still unsolved and under investigation by Detective Andy Arostegui of the Miami Cold Case Squad.
I posted earlier that after a bad experience with Peter Hurkos, the lab refused to give out the names of psychics.  It's not that they didn't believe some might have abilities, but they couldn't find any evidence that they could control them, and there was no way of verifying the information they got, even if it was correct.