Some stories are just more fun than others. I picked a few people who crossed paths with the scientists at the lab to write about, and one of them was an amateur researcher named Raymond Bayless.  (More below.)
I wrote about Raymond's work recording what he believed were the voices of the dead and briefly mentioned a 25 page report he sent to Rhine about an Ozarks legend called the Spook Light (that report was ultimately published in Fate Magazine).
Briefly, the Spook Light is a golden-amber glowing light that has been appearing at the end of a lonely road near Joplin, Missouri for more than a century. From my book:
… the exact location has changed.  Throughout the years it's been spotted on various stretches of road on the northern edge of the Ozarks, along the Missouri/Oklahoma state line.  The source of the light has never been found.  The Army Corps of Engineers looked into it during WWII and rather dryly concluded that the spook light was a "mysterious light of unknown origin."  Most researchers ultimately decide that it's just the reflection from headlights on a nearby highway.  But when Raymond wrote his report in 1963, he included evidence of sightings going back to at least the 1800's, years before headlights and highways.  In Ozark Superstitions, author Vance Randolph also found people who saw the Spook Light "long before there was any such things as a motor car."
Ever since I read Raymond's report I've been dying to go there. One day Art Silverman, from NPR's All Thing's Considered, was in the area with Doualy Xaykaothao working on a story.  I said they had to look into the Spook Light, and they ended up doing a piece about it called Halloween in Missouri: The Devil's Promenade!  There's also a current picture of the light from NPR's website (taken by James E. Smith) which I'm copying here, in order to do a little then and now thing.
The Spook Light then: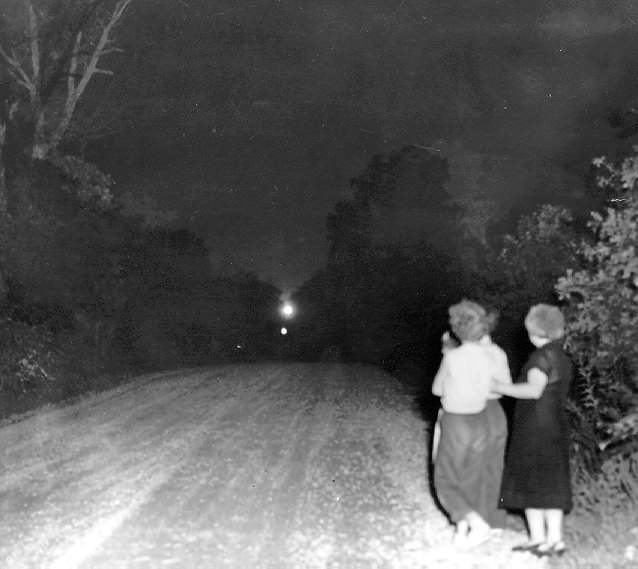 The Spook Light now: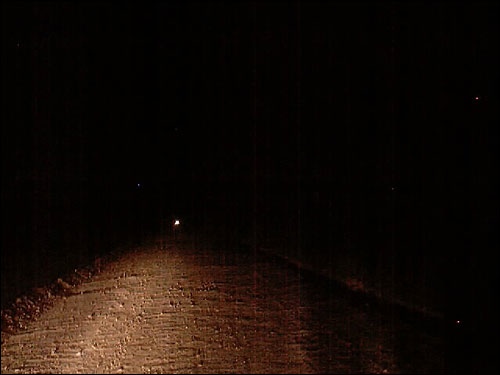 I love that it's still an unpaved, dirt road.