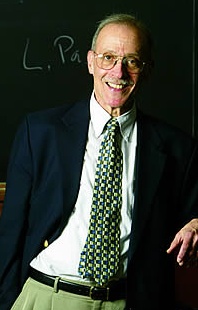 I went down to Durham to give talks about my book for Duke University and for the Rhine Research Center. At the one for the Rhine Research Center I was co-presenting with Sy Mauskopf, a Duke professor and science historian and the author of The Elusive Science: Origins of Experimental Psychic Research (with Michael McVaugh), which I link to on the right.
God those Duke students are lucky, what a treasure he is. You had to be there, but he was just one of those teachers who has the perfect combination of smart, engaging, generous, he is such a good story teller.  Some teachers want to … not sure how to put this, intone.  And others, it's like they figured out this great thing and can't wait to tell you.  That's Sy.  He gave a presentation which put parapsychology in historical context.  Among other things, he talked about Karl Popper and Thomas Kuhn, and the demarcation between science and pseudo-science, Isaac Newton and alchemy, it was a great talk.  He was awarded the Alumni Distinguished Undergraduate Teaching Award (I'm not surprised).
I just looked up his bio on Duke:  "My research interests in the history of science have been quite varied over the years; they include the history of chemistry and allied sciences in the eighteenth and nineteenth centuries (Crystals and Compounds, 1976), the history of chemical technology, focusing on munitions and explosives and the history of parapsychology and marginal science (The Elusive Science: Origins of Experimental Psychical Research, with Michael R. McVaugh, 1980). I have edited two books reflective of these different interests: The Reception of Unconventional Science (1979) and Chemical Sciences in the Modern World (1993)."
Jealous.  I want to write another historical book about science.  Anyway, if you're a Duke University student, take his class!