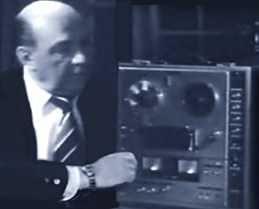 This call for volunteers came in my email:
"The Rhine Research Center is looking for a number of participants to take part in a study on "electronic voice phenomena" (voice-like sounds that can be heard on audio recordings (such as recordings made on tape-recorders or digital voice recorders) that were not heard at the time that the recording was made). The study is taking place at the Rhine Research Center in Durham and will run for the next few weeks. The study comprises filling out a questionnaire and listening to a series of examples of EVPs and noting down what you hear (this part takes approximately 30 minutes). If you take part, you would also receive a small payment ($6) to thank you for your time."
"The study takes place at the Rhine, on Monday, Wednesday and Saturday afternoons, and last about 1 hour. If you would like to participate in this study, please contact Susan@rhine.org for more information."
The picture is of Attila von Szalay, an early EVP investigator.