I'm going to have an ongoing series called Letters to the Lab, I've decided. There are just so many filled with interesting stories, sad stories etc.  
There was one from Barbara Brown, Rhine's correspondent from Riker Laboratories. Barbara Brown would go on to become famous in the 1970's for her research in biofeedback, but she was working for Riker Laboratories at the time.  Riker had a contract with the Army to look into hallucinogenic mushrooms and she was involved with that.  This was the sixties!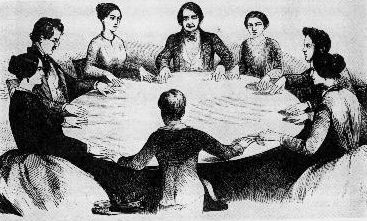 Brown had agreed to participate in a table rapping investigation. Table rapping was an old seance thing.  "Rap once for yes, twice for no," mediums would instruct the spirits. At Aldous Huxley's house, Brown met Andrija Puharich, (a parapsychologist Rhine was always a little leery about) and before she had a chance to get to know him better, she agreed to let them use their lab's electroencephalograph (EEG) in a table rapping experiment. 
She didn't say much about the experiment alas, beyond the fact that it was intriguing while questionable, and "unfortunately I haven't the time to devote proper experimental situations and designs by myself."  She was skeptical and therefore not inclined to continue.  I couldn't find anything else about it, but I'm guessing they didn't have a lot of luck finding another lab with an EEG who was willing to experiment.  But maybe I'm wrong!