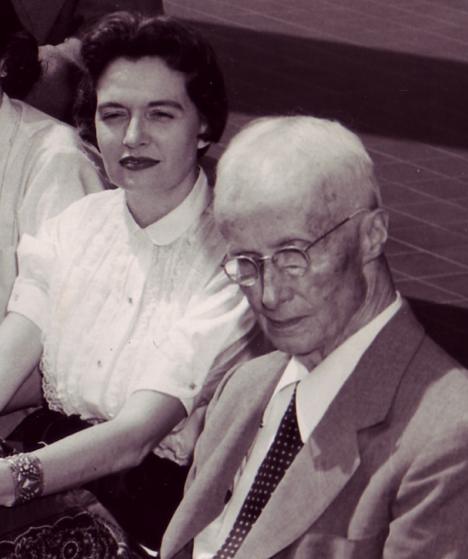 I originally had a lot more in the book about one of the lab's contributors, a retired history teacher from Cleveland, Ohio, named Charles Ozanne.
For a long time Ozanne was glad to give money to the lab. He was looking for a purpose in life and he was drawn to parapsychology and the survival question. Like Rhine and John Thomas before him, Ozanne had sittings with the medium Mrs. Soule. Ozanne had been close with his mother and the sittings with Mrs. Soule were in order to communicate with her. But he often wrote Rhine about how the medium only got in the way of his connection to her. "Those who communicate, communicate enveloped, as it were, in the atmosphere of the medium's personality." How frustrated the dead must feel, Ozanne believed, at not being able to communicate more directly. One day, however, when Mrs. Soule was coming out of her trance, "there burst through with almost explosive emotion, the words, 'My boy!'" Ozanne wrote Rhine. It was because his mother's need to speak to him directly was so strong, he believed, that for a second she came through. "… just as when electric voltage gets high enough the electric spark leaps over the intervening distance, so the direct emotion broke through the usual mechanisms and expressed itself in that outburst."

Ozanne was excited by the papers they'd started publishing in the forties about psychokinesis (aka PK). His mother had once communicated to him through a medium that it was "easy to influence the mind, but hard to move the hand." In other words, PK was hard. Ozanne thought Thomas Edison's attempt at building a machine to communicate with the dead indicated that Edison agreed with his dead mother. According to Ozanne, Edison thought that if spirits existed, they "could exercise some slight power over matter, but very slight indeed; so he devoted himself to construction of a machine that could be moved with an almost incredibly small expenditure of energy. That is exactly in line with your PK effect."
Then, in 1952 Charles Ozanne moved to Durham to be closer to their work. The last remaining relative that he was close to had died, and he was now 85 years old. At loose ends at the twilight of his life, Ozanne came to live out his last years where he felt his contributions were making a difference. "The giving that you make possible for me I consider and opportunity and a privilege," he wrote. The problem was he wanted that contribution applied much more directly to finding proof of life after death. Moving to Durham only brought nearer the conflict that had always dogged his relationship with Rhine.  (More below …)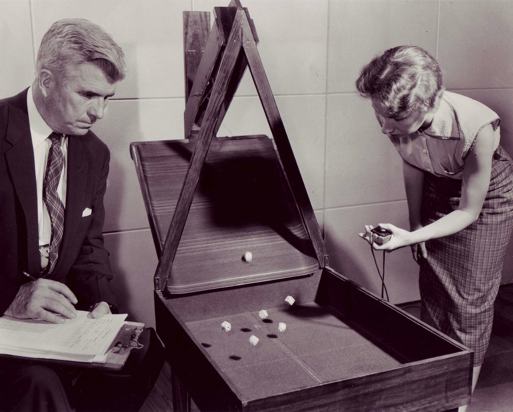 Two years after moving to Durham Ozanne made a list of every contribution he had ever made to the Lab since 1936 and confronted J. B. Rhine. He'd given them just under $47,000.00, which would be worth $324,000.00 in 2005. And for what, he asked. Survival "is the very core of my life and the one supreme thing that I am working on with every power of my being," he wrote. "Yet so far as I can see, at no time did you make any serious effort to understand it."
All Ozanne wanted was some shred of proof that the messages he believed were from his dead mother were, in fact, real. "You want science to come to the aid of this belief," Rhine responded, arguing that Ozanne's difference was not "with me, but with the scientific standards to which I, along with thousands of others, are devoted." But Ozanne became convinced that only Rhine's stubbornness stood between him and his ability to fully embrace immortality. He wrote back in anguish, "You stand with your armed guard beside the Pearly Gates to see that nobody gets in without the proper scientific uniform on!"
Rhine invited him and anyone else to "go over the record of the past twenty-five years and see what great thing there was which we ought to have seen how to do and ought to have done which we did not do." And "to come forth with a just appraisal of our efforts to find evidence of the spirit world you firmly believe exists and show wherein we have been neglecting our opportunities to discover and record important evidence." On another occasion he said, "We are not addicted or limited to experiment, or statistics, we are searching for new ways, or old ones we had forgotten," but they weren't having much luck. Rhine repeatedly suggested that Ozanne might be happier if he contributed his money elsewhere, but as frustrated as Ozanne was with Rhine he had the most faith and trust in him and the Parapsychology Lab.
But the complaints continued and eventually Rhine just couldn't continue to take Ozanne's money when he wanted it spent so differently. He wrote Ozanne and listed a half a dozen capable people Ozanne could give his money to instead. He also suggested setting up an endowed survival research project within the university, and recognizing Ozanne's disappointment with him over the survival issue, Rhine said it was best to leave him out of it.
On New Year's Eve, 1959, Ozanne arranged to have the funds he had given to Duke moved into the newly established Psychical Research Foundation, Inc. in order to support the Survival Research Project (the Foundation would be formally established the following summer). Duke University was now disinclined to be involved with a project that was so unambiguously about life after death, and so the Foundation and the project were run independently of the university. (Although later they became "a sponsored program" within the Duke Department of Electrical Engineering, because of their work with Electrical Engineering professors John Artley and William Joines, and the interest in psi by the Electrical Engineering Dean at the time, Dr. Alexander Vesic.) Bill Roll was made the project director, and Gaither Pratt was appointed as the head the board of directors.
Ozanne, who would be turning 95 in 1960, finally had what he always wanted. Every last cent of his money would be devoted to research on post-mortem survival and nothing else. They'd investigate mediums, families of mediums, hypnotism, reincarnation, and poltergeists. The pearly gates between life and death were open to everything he always thought was possible. Ozanne was exhilarated and Rhine was relieved. "If any more potential donors appear over the horizon, I'm about ready to pop them off with a shotgun before they get near the Lab," Louie wrote that year.
Charles Ozanne died on April, 5, at 95 years old, just a few months after establishing the Psychical Research Foundation. He must have felt that his dreams of answering the survival question were finally within reach, and then he was gone.
(The first picture is of Charles Ozanne, the second is Rhine conducting a PK test with dice.)