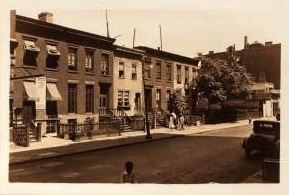 I was exploring the collection of digitized images at the New York Public Library, and I came across this picture of what was called The International School of Psychic Science at 135 West 124th Street. It's dated 1932.
A quick search of Proquest only turned up a couple of ads. One for an astrologist who'd give a 14 page report for a $1 and another that called it by a slightly different name. It was The International Psychic Science Center, and they had two buildings, 133-135 West 124th, and Thomas R. Hall is listed as the director. "The ideal center for spiritualists, psychics, mediums and occultists" the ad reads. "Noted speakers and messages daily at 8 p.m."
Just going by this one page of ads in 1932 you'd think everything to do with spiritualism was happening in Harlem.