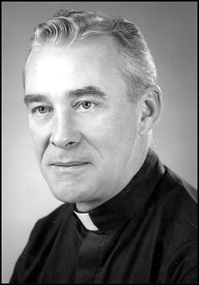 In one of the chapters in Unbelievable, I talk about the actual case that inspired the book and movie The Exorcist. I had intended to try to track down Dr. Mabel Ross, the child psychiatrist who examined the boy at the center of this case.  
Dr. Ross had two interviews with the child, and there was supposed to have been a third, but the family never brought him back. Dr. Ross, if still alive, would be in her eighties now, at least.  I see that she is depicted in a 1997 movie about this called In the Grip of Evil.
Rev. Luther Schulze, the clergyman who contacted the Parapsychology Laboratory, didn't think this was a case of possession and neither did J. B. Rhine, the head of the lab. (This is a picture of Father Walter Halloran, by the way, who assisted at the exorcism. I don't have a picture of Rev. Luther Schulze.)  
Rhine and Schulze were skeptical about the cause.  Schulze, for instance, wrote Rhine about the words that were purported to have appeared on the boy's body.  "My physician and I saw no words," Schulze wrote, "but we did see nerve reaction rashes which had the appearance of scratches."  
Schulze did witness some very bizarre events involving the boy, which he couldn't explain, but he didn't think the answer was possession.  They thought perhaps it might be psychokinesis or a poltergiest, but they also thought it was also just as likely that there would be a psychological explanation.