One day while going through the Parapsychology Lab archives, I came across this November 9, 1946 letter to J.B. Rhine from Harold A. Scharper, a returning WWII soldier who was now a paraplegic writing from the Vaughan Veterans Hospital, in Hines, Illinios. He'd heard about their work and was offering himself up for research.
"I will have to resort to developing more than I ever dreamed the use of my intellect.  I finally believe that this is an asset to most disabled people for we have the time and can develop the patience needed far better than the normal person … I am not going to kid myself into believing I will be able to perform miracles but I do as I said before firmly believe that the work that you are doing can help me and others like myself to become leaders in many fields.  I will appreciate deeply anything that you can say or do to confirm my belief."  More below …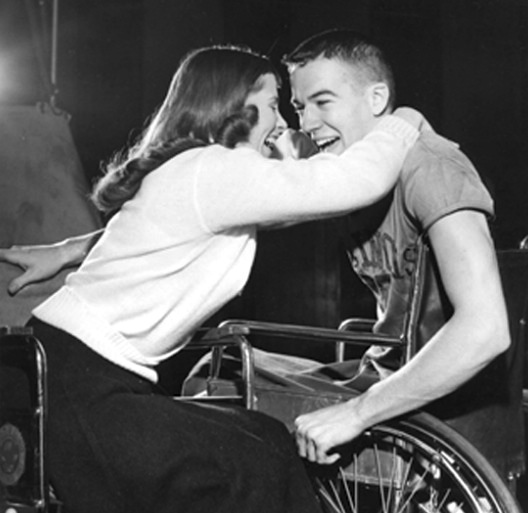 J. B. wrote a tender letter back, assuring Harold that it was true, "about the capacity of the mind to make up in one for the handicaps that may develop" but he wanted to give him more.  He included some of the lines from William Cullen Bryant's poem, The Chambered Nautilus,
"Build thee more stately mansions, O my soul,
As the swift seasons roll.
Leave thy low-vaulted past.
Let each new temple, nobler than the last,
Shut thee from Heaven with a dome more vast
Till thou at length are free
Leaving thine outgrown shell by life's
unresting sea."
And he closed with, "Our research does, I think, help support the view that the mind is a free, creative, volitional system.  It does encourage one to reach out for greater powers.  It adds to the sense of adventure in merely being alive."
I was able to find out a few things about the very active Harold Scharper. He was married the year he wrote Rhine. The next year, in February, 1947, he attended the first meeting of the Paralyzed Veterans of America. He then went on to serve on the Board of Directors for Delta Sigma Omicron, which was founded in 1948 at the University of Illinios, where Harold was a student in psychology at the university. "Delta Sigma Omicron was an integral part of the first comprehensive program of higher education for those with disabilities in the world … It co-sponsored the first National Wheelchair Basketball Tournament in the spring of 1949 and shared in the growth and development of the National Wheelchair Basketball Association and other sport activities for those with disabilities." Harold played on that first wheelchair basketball team, called the Gizz Kids.
Sadly, he died the next year, on June 7, 1950. He was only 31 years old. Delta Sigma Omicron established two awards in his name, the Harold Scharper Service and Achievement Awards.
Harold served in the 15th Infantry and had been wounded at Anzio. Oh god, I just read this in a description of what happened at Anzio. "Efforts by the 4th Rangers and 15th Infantry to rescue the beleaguered units failed, and by noon armored units of the Hermann Goering Division had forced the Rangers into the open. The Americans had only grenades and bazookas for antitank weapons, and as they attempted a fighting withdrawal in small and scattered groups they were cut down mercilessly. Of the 767 men in the two battalions, only 6 eventually returned to Allied lines."
The picture is from the University of Illinois Archives. The caption reads, "Member of the University of Illinois Gizz Kids being hugged by a Gizz Kid Cheerleader."