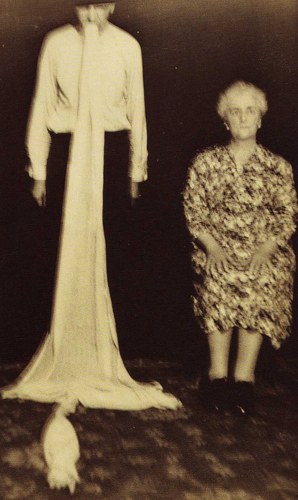 I've been collecting polls about people's belief in ghosts. Everything seems to indicate that it's going up.
In a 1978 Gallup Poll, just under 11% of the respondents believed in ghosts.  But their most recent poll (2005) found that belief has gone up to one person in three.   Even more people believe in the devil (42%).   41% believe in ESP.
According to a 1950 British Gallup Poll, only 10% believed in ghosts, and only 2% said they saw one.  By 1998, 40% said they believed in ghosts and 15% said they had a "personal experience" of ghosts.
41 percent of the respondents in a 2007 Harris poll said that they believed in ghosts.  69 per cent said they believed the soul survived death.
In 2007, 81% of the people polled on the Larry King website said they believed in ghosts.  
60% of the people in a 2005 TV Guide poll said they believed in ghosts.
This is a picture of an ectoplasmic cat. Most of my pictures come from the library at the Rhine Research Center. They very generously allowed me to spend an afternoon scanning.  I'm going back week to scan some more and I can't wait!